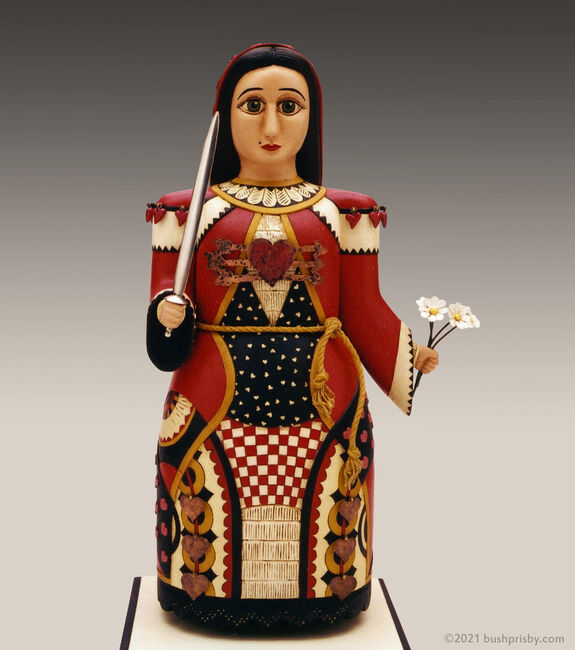 Click Image for (6) Large Views
Queen Of Hearts
One-of-a-kind - Created in 2001
Size:
16.5"H x 6"W x 5"D, 12" figure
Carved pine with wood burned details. Ornamented with copper, Sculpey Clay. Silver sword handcrafted by the late Linda Leigh Linton.
While many of my works are based on folk art of the 19th century or at least have their origins therein, the Queen of Hearts' main decorative influence was playing cards. I found a couple of books with old playing card designs that I used as a starting point and would go back to when I needed "a spark."

I worked on this piece over a period of many months in 2001. The basic layout was planned and woodburned onto the different design segments, but how each section would ultimately be decorated was an ongoing process. Some of the ornaments were surplus from other sculptures. The dozens of small, red hearts were crafted by carving the entire length of a 1/4" dowel rod into the shape of a heart, then slicing off tiny slivers using a mini circular saw. The copper heart with three arrows was made years before, based on an antique weathervane. Many of the figures I created displayed ornaments that hung from miniature brass screw eyes and brads, something I'd seen on antique Cigar Store Indian carvings. The Queen of Hearts is the most detailed work I ever created - my masterpiece.